How to Reverse Sear Prime Rib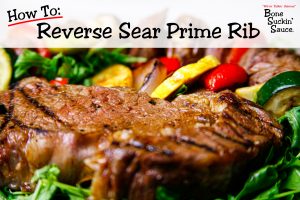 Reverse Sear Prime Rib:
Choose a well-marbled bone-in, or bone-out beef. Marbling determines how tender and rich your beef will be. The more marbling, the richer and more tender the beef. 
Season your prime rib with

 

Bone Suckin'®

 

Steak Seasoning & Rub. Season your prime rib the day before you cook it. We also recommend covering with

 

Bone Suckin'®

 

Mustard

 

before you apply the steak rub to create a crust on the meat. 
Let your prime rib sit on a rack uncovered in your fridge overnight. This will help the rub season the meat better, and dry out the surface to create a better crust on the meat. 
Start your prime rib  in the smoker at 250 degrees. Once the rib is placed on the smoker add your favorite flavor wood. Cook until the meat reaches the internal temperature for the desired color. (temps listed below) 
Take your prime rib off of the smoker and move to the charcoal grill of the smoker. On high heat, rotate the meat on the charcoal grill from top to bottom every 2 minutes until the exterior is as crisp as you want it to be. Make sure to wear heat gloves when moving the prime rib.
Remove your prime rib from the grill and allow it to rest 10 minutes. 
Enjoy!
Temperature Guide
115-120˚F for Rare
125-130˚F for Medium Rare
135-140˚F for Medium
145-150˚F for Medium Well