Press

Woman's Day Magazine : Top BBQ Sauces
Original Bone Suckin' Sauce. "This North Carolina-style sauce is sweet and tangy, with tomato, cider vinegar, honey and molasses. It's thinner texture makes it ideal for marinating or basting, or as a dip for veggies and crispy fried food."
InStyle Magazine : Best New Tips For Summer: Better BBQ
"Award-winning, all-natural Bone Suckin' Sauce is tomato based, with lemon juice and mustard for tang."
Health Magazine : Grade A+
"You can see the chunks of onion and peppers in this tangy-sweet, Carolina-style sauce. We love that it's naturally sweetened with honey and molasses, and packed with flavor from apple cider vinegar, horse-radish, and mustard. With all this and a hint of smoke, Bone Suckin' Sauce is great for grilling and dipping. Grade A+"
Newsweek Magazine : Rated #1
"BONE SUCKIN' SAUCE, RALEIGH, N.C. There are a million barbecue sauces, but we fell for the Ford family's… The sauce rocks. bonesuckin.com" Rating #1
Food & Wine Magazine : #1
"Bone Suckin' Sauce Hot Flavor – Tangy and smoky with a real kick." Interesting bite: "The company president's grandmother [Sandi Ford] used to suck the sauce off ribs and chicken bones, hence the name."
House & Garden Magazine : #1 Teriyaki
"Nothing beats salmon grilled in a crispy glaze of Bone Suckin' Yaki. Brush this teriyaki-style sauce on your fish as it cooks. Before serving, add a drizzle of sauce."
Every Day with Rachael Ray: Featured BBQ Sauce in the "United States of Sauce"

Bone Suckin' Original BBQ Sauce: "The tomato-based western NC sauce is thicker and sweeter than its eastern NC cousin."
Forbes – Your Weekly Treat: The Best Barbecue Sauce?
Look For The Mustard. "Intriguingly lively and sweet on entry—from molasses and brown sugar— Bone Suckin' Sweet Hot Mustard sauce finishes with a crisp, fresh kick from chopped jalapeños that seem to cleanse your palate and prime you for the next bite."
Bon Appetit : Favorite Supermarket BBQ Sauces.
"This sauce is sweet and vinegary with a touch of chili heat. It would be great for pulled pork." As for health–not always a contradiction when talking BBQ–our nutritionist Marissa Lippert says go for the Bone Suckin' Sauce. "It's significantly lower in sodium than the others, a bit lower in sugar and about half the calories."
Country Living: Best Barbecue Sauces in the Country.
"Bone Suckin' Sauce sweetened with honey and molasses you'd expect for sauce makers in Raleigh, N.C., Ford's Foods includes horseradish, mustard and a secret spice blend."
USA Today – "Just what's needed to spice up ribs, barbecue, chicken, and even meat loaf."
For its name alone, Bone Suckin' Sauce is well-nigh irresistible. The folks at Ford's Foods, Inc., Raleigh, N.C., didn't just stop with the name, however, and this North Carolina-style…sauce is just what's needed…
Taste of the South Magazine : "Balanced Flavor"

"Two generations of the Ford family of Raleigh, North Carolina, joined together to create Ford's Foods' Bone Suckin' Sauce. "It was my grandmother's recipe," recalls Patrick Ford. "My uncle, Phil Ford, refined it, and my mother, Sandi Ford, named it."­
 

 

–  "Barbecue sauce worth sampling, right down to the bone"

 

 

–  "Bone Suckin' Success. Raleigh company's barbecue has made big impression with memorable name"

Q : "What do Jim Goodnight, a Lexus, G105's Bob and Madison, Bone Suckin' Sauce and the West End Wine Bar have in common?"
A : "Nothing much other than they all came out on top in Triangle Business Journal's 1998 Best in Business awards contest." July 6, 1998
Brand Marketing Magazine : "Bone Suckin' Mustard joins the spectacular Bone Suckin' Sauce"

Bone Suckin' Mustard from Ford's Foods joins the spectacular barbecue Bone Suckin' Sauce, Bone Suckin' Salsa and Hiccuppin' Hot Sauce from one of the country's leading barbecue and marinade companies. Items in this line gain attention and sales — the name stops the consumers, and the flavor brings them back for more." – article by Robert McMath
– "Best of the BBQ Sauces!"
"Industry veterans Sandi and Lynn Ford have stayed out of the manufacturing side of the specialty food business. Until now."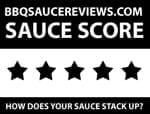 "This one gets BBQSR props for a magical combination of quality ingredients, simple packaging, clever name, and well balanced flavor." BBQSauceReviews.com

Best small-batch BBQ
"Natural ingredients , No high-fructose corn syrup, Complex and smoky." According to the reviews we found for barbeque sauce, Bone Suckin' stands out as one of the best small-batch BBQ sauces. It has all-natural ingredients, and reviewers say it hits all the right notes: it's smoky, spicy, sweet and sour, but no one flavor predominates." ConsumerSearch.com